v2.1.1 Hotfix and Plan for Next Update
---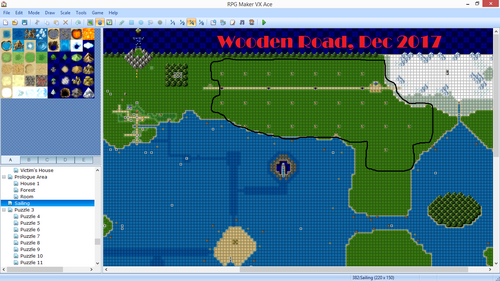 As you can see from that screen shot, Wooden Road is going to be a massive expansion of forestry. It will essentially double the giant forestry already in game, as well as provide two more elements on top of that. Storyline however, will take a back seat. That will be saved for March and June 2018.
Also, there were some bugs, so I figured it would be best to fix em now. Unless something is severely broken, don't expect any more updates until December.

9/24/2017
v2.1.1 hotfix
New Features:
Game now starts in fullscreen. (supposedly, this can cause
problems with some old computers. Let me know in the comments 
if you run into any issues)
About a dozen old enemies can now use the new abilities.
+20 weapons and armor. (these items are currently only found 
in the basic Temple of Bronze store)
Balancing:
Improved damage from Gravity Spells.
Increased Scythe's Sentence from 20% to 25%.
Increased Dagger's Contemplate from 35% to 50%.
Lowered the benefit and drawback of Philistine by 5%.
Misc:
Staff shields were incorrectly giving 5 stamina to 
allies.
Fixed a bug involving Academy upgrades being free.
Fixed a bug involving the Ghostship displaying the
wrong graphics.
Fixed a bug that stopped the Goblin Quest from
being turned in.
Contemplate will no longer damage the user.
Wind spells will now properly crit.

Files
TheWoodenOcean.exe
487 MB
Sep 24, 2017
TheWoodenOceanFree.exe
487 MB
Sep 24, 2017